Following on from our nomination in the Digital Innovation category, Think Beyond is delighted to announce that we won! As members of the West Cheshire & North Wales Chamber of Commerce, we were invited to their Annual Recognition Awards for 2022. After a two-year hiatus, the awards returned with a bang at Chester Racecourse on Friday 11th November 2022. Read on to find out more about our dramatic win.
Digital Innovation Award
Sponsored by Protos Networks, a network and cyber security specialist in Chester, the award focuses on innovation in digital. Specifically, it is designed to recognise businesses who demonstrated that they have embraced digitisation and used technology to increase profitability. Think Beyond leveraged digital tools and techniques to enhance customer experience programmes and virtual testing of product packaging. This household name wanted to both maximise the impact of new packaging and boost customer loyalty and wallet share. As a result, both our client and Think Beyond saw an upturn in revenue. We also designed a bespoke method of measurement specifically to meet the client's needs.
Award Winner
After a heart-in-mouth journey to the venue due to a pile-up on the M56, there was a second heart-in-mouth moment. Within 5-minutes of walking into the venue, Think Beyond were walking up on-stage to collect the Protos Networks Award for Digital Innovation. Having been comfortably on schedule to arrive before 6pm, we arrived just before 7:30pm. The first award announcement was for Digital Innovation and we had barely taken our seats when we won! Hosted by Sian Lloyd, famous broadcaster and journalist, we made our way from the back of the room to collect the gong. We didn't even manage to get a drink before getting up on stage but it sure was worth the wait. A huge thank you goes out from us to the West Cheshire & North Wales Chamber of Commerce for a fantastic and well-organised event.
It wasn't just about Think Beyond
Along with dinner and the Annual Recognition Ball, sponsors, patrons and strategic members offered up raffle prizes to support The Joshua Tree. The Joshua Tree is a Cheshire-based children's cancer charity who provide bespoke programmes of support to improve the emotional wellbeing and mental health of all immediate and extended family members who are affected by childhood cancers. They offer this invaluable support across the North West of England and North Wales for as long as needed. This support extends beyond the patient and parent(s) to siblings and also grandparents, recognising different needs. Attendees donated and took part in the raffle to support this fabulous charity organisation.
Multiple Award Winner
Think Beyond has won two awards this year for using digital techniques backed by neuroscience. With so few tools available to measure and enhance end-to-end customer experience (CX), this helps our clients to go beyond. We have previously been nominated for startup of the year awards, young director of the year and small business of the year. However, we are truly delighted at the awards from the High Sheriff of Cheshire and now the West Cheshire & North Wales Chamber. As a micro-business, we are humbled at the recognition. We also believe that Nelson Myatt Solicitors and Topwood Ltd were equally deserving nominees in this category. Thank you to our fellow attendees for the support shown for the awards, nominees, winners and this amazing Chamber of Commerce.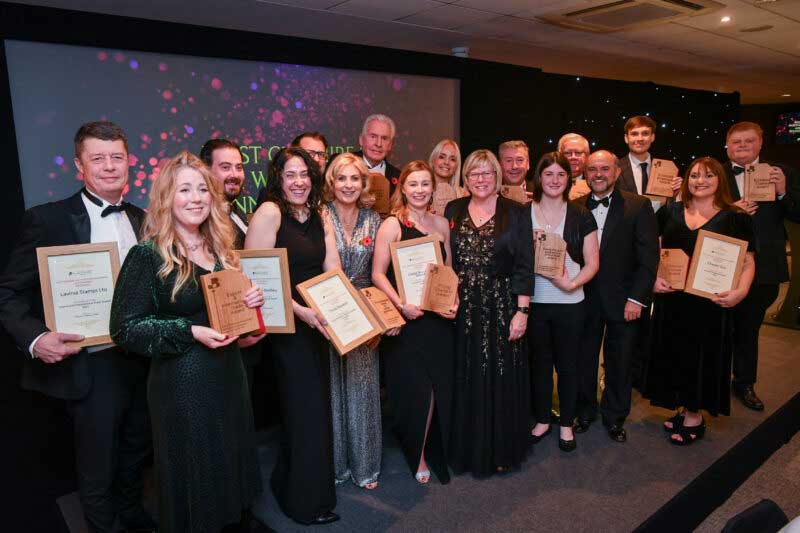 A word from our founders
Mercè, principal consultant at Think Beyond, said that "We were so stressed out when we arrived and within 5 minutes we were up on stage with Sian Lloyd! It was so lucky that we arrived just in time to collect the award after the M56 closure. You can probably see us a little dazed and confused in the photographs but it was an amazing night. Thank you so much to the Chamber, the judges, our fellow nominees, Protos Networks (the sponsor) and Sian Lloyd. We will treasure this award for years to come. Yay!"
Steven, principal consultant, also commented that "It was a surprise to be nominated for an award but a total shock to go and win it! We were fortunate enough to win some awards during our working career but somehow, these kinds of awards mean so much more. To be recognised by fellow businesses as doing something different and right, not under a long-standing corporate brand, is truly remarkable. It was lovely to see Mercè and our wonderful friend, Catherine, up there on stage to collect the award. I think you could see Mercè's smile from anywhere in the room."
Doing things differently is in our DNA
Here at Think Beyond, a multi award-winning management consultancy based in Knutsford, we like to think differently. In fact, the P in our PSR approach, stands for a philosophy of seeing things in a different light. With a range of research services to support strategic decision-making, you can see the importance. Working with boards and senior management, we find the answers and insights to leverage growth opportunities. These services include tools to enhance CX, employee experience (EX), market sizing, industry reports and more.
If you would like to speak to us regarding these techniques, simply call to book a free initial introduction. Alternatively, send a request online or drop us a brief email and we will call you.
Finally, to read more about our business, check out how we do things.