Leads – any business inevitably wants more. Research by B2B Marketing and the Telemarketing Company says 59% of marketers receive "significant pressure" to generate more leads. But what number of leads constitutes "good" and how can management set the right goals and KPIs? The answer: reverse sales funnel science.
So grab your lab coat and keep reading to discover the what, the why and how to benefit from stepping back through your sales funnel. Driving revenue forward will never be the same.
Prefer to discuss your reverse sales funnel with a marketing expert? Call 01625 682110 for a no obligation consultation.
What is a reverse sales funnel and why does it matter?
Firstly, the sales funnel is a process the some people have built a career around. You put visitors in at the top but not all who enter the sales funnel will reemerge out from the other end.
A reverse sales funnel tells you what number of leads your business needs to generate at the top, middle and bottom of the sales marketing pipeline to reach targets.
By forecasting required leads, a reverse sales funnel helps senior teams to set the right goals and KPIs for every stage in the sales process. Additionally, a reverse sales funnel approach quickly determines if your target market is too small or and drop-offs in your sales cycle. In this sense, a reverse sales funnel is a strategic optimisation tool that protects a company's bottom line.
How to reverse engineer your sales marketing funnel
Reverse funnel science requires a business to have first identified their sales and marketing funnel.
The importance of an accurate sales funnel cannot be stressed enough as it is from this schema that close ratios between pipeline stages can be calculated. Knowing what percentage of leads convert and progress through enquiry, MQL, SQL, opportunity to sales won forms the basis of reverse engineering your sales funnel.
Take the following basic example. You are a B2B technology company with a SME proposition. Analysis of your SME sales marketing funnel reveals the below conversion ratios:
Enquiry – Marketing Qualified Lead = 50%
Marketing Qualified Lead – Sales Qualified Lead = 50%
Sales Qualified lead – opportunity = 20%
Opportunity – Sales won = 5%
If every sales won deal is worth £10,000, to generate revenue of £1m, you would require 100 sales won deals annually. Working backwards through the conversion rates you can calculate that 40,000 enquiries are needed to meet target.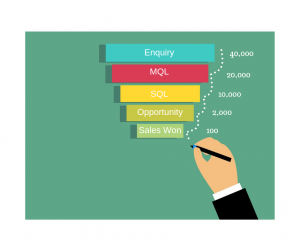 If 40,000 leads exceeds your target market, it's time to explore secondary markets. However, be cautious as expanding your target market is not always the answer if your close ratio is too low. This is where partnering with a qualified consultant can add value. As an outside expert, a marketing consultant can help to identify gaps in your process and drive sales forward.
Let Think Beyond help you get to grips with funnel science
Think Beyond is a Cheshire marketing management consultancy that serves the North West region and beyond. Our CIM qualified marketers work on every aspect of sales strategy to create measured, managed business solutions rooted in marketing science.
From identifying your sales marketing funnel through to optimising your sales process, we have sales in mind. Furthermore, we help align your teams, provide marketing dashboards to track KPIs and design training workshops. Ultimately, Think Beyond have a singular aim to accelerate your sales performance.
Contact the Think Beyond marketers today
Find out how Think Beyond can help fuel your business growth by getting in touch today. Call 01625 682110 to speak with one of our Chartered Marketers or email hello@think-beyond.co.uk with your enquiry.
Also, book your free one-hour initial consultation by submitting your contact details online.
Finally, keep up-to-date with the latest news and developments from Think Beyond by subscribing to our blog.